Do you know how to fix car roof lining without removing it?
We guess not, but if you do, there is no reason you shouldn't read this post. Our core purpose is to ensure you fix this important interior car accessory in a fast manner.
A car roof lining is an important accessory that helps to maintain optimal interior temperature and also adds a classy touch.
As such, fixing them when they sag is paramount to enjoy the best driving experience.
Fixing them is super simple and a process you can achieve on your own. All that is required is to have the right tools and procedure to fit car roof lining correctly.
Importantly, you don't need to completely remove the whole roof lining. You can work on it while it's sagging.
In this article, we will take you into detail about how you can fix a roof lining without removing it.
Also, we will look at important insights relating to this important interior car roof accessory. Let's get started…..
How to Fix Car Roof Lining without Removing: Complete Procedure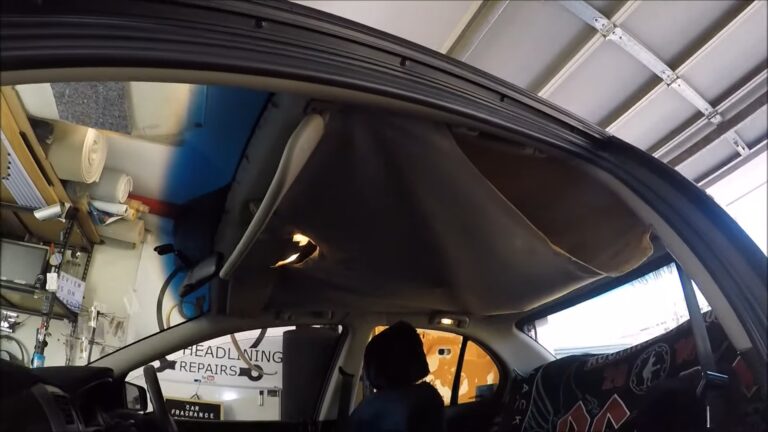 If your car roof lining is damaged and is sagged, you choose to replace it.
Getting a replacement is quite expensive and that is why it's cost-effective to repair it. Replacing a car roof lining involves a complete change of the backboards leading to huge expenses.
Below, we are going to look at the steps involved when fixing car roof lining without removing it.
If you are on a tight budget, these below-outlined steps will save you a huge money sum that can be used to improve your car better.
01. Fixing by Sticking the Roof with Glue
Before thinking extremely of the best method to fix a car roof lining, try using glue. A quality and durable glue helps to anchor and stick the headliner onto the supporting board.
With time, they become obsolete and fail to result in sagging.
You will be required to reapply the adhesive again to restore the headliner into place. For best results, apply the glue evenly on both sides and place them together strongly.

In case a part of the roof lining starts to sag, reapply the glue again. Remember, fixing roof lining by using glue is only applicable for roof linings partially sagging.
02. Use Pins to Uphold it
A much cheaper and quicker method of fixing a car roof lining without removing it.
Sharp pointed pins are used to hold together a car headliner. Fixing these pins is super easy and is a task you can achieve alone. Also, they take less effort and time to install.
To start with, purchase a quality pins package and put them onto the sagging roof lining part. Set the pins directly to the roof liner and attach them to the backboard.
Pins are a flexible option since they give you space to make attractive designs while setting them up.
Pins, as such, are convenient to use when fixing the roof liner and, at the same time, end up improving the interior design of your car. A win-win situation!
Fixing a car roof lining is one of the simplest repairs done on automotive. No special skills are required since you only have to pin the pins on the headline against the backboard. As simple as that.
03. Installing Twist Pins
To best repair a sagging roof lining, twist pins are a great remedy. Twist pins have a sharp tip that can be maneuvered to form a twisty design from the end.
To fix them, push the twisty pins onto the board and continue by rotating them to strongly anchor a sagging roof liner.
Fixing a sagging headliner is a cheap and easy way of repairing this important car part. Twisty pins also help to improve the interior design of cars.
If you want to add more ambiance inside your car, go for the bright-headed twisty pins. You can conveniently make different designs on your car roof.
04. Use a Quality Steam Cleaner Agent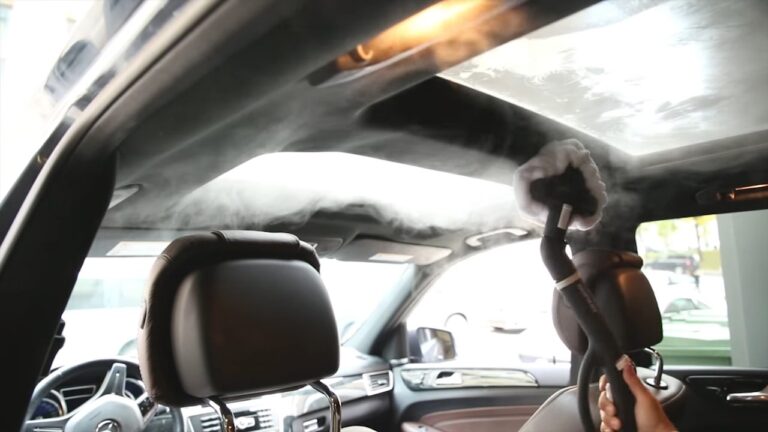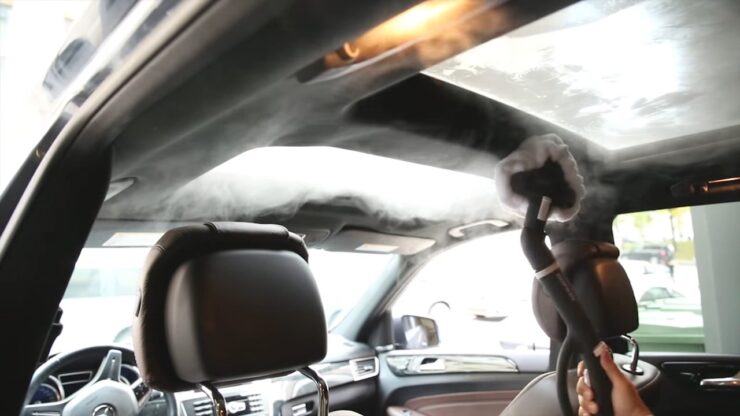 A major reason why most car roof linings are weak is the lack of glue potency.
Roof linings are a bit heavy and the potency of glue lessens with time. With time, they are likely to flaw and end up sagging.
To get them back to their usual place, a steam cleaner is a robust way of achieving this. Steam cleaners work by melting the roof lining glue and thus restore it to its original form.
Once the roof lining glue has melted, utilize a paint roller to firmly stick the roof lining to its designated place. To make the roof lining firmly anchored, a paint roller helps to spread it evenly on the board surface.
Also, this gadget helps to ensure there are no gaps between the headliner and the surface of the board.
05. Use a Strong Double-sided Glued Tape
For quick fixes in your car, a strong double-sided tape is helpful and importantly, comes in different types.
If you have a sagging roof lining, double-sided tapes are versatile at solving this menace. Ensure you look for the strong double-sided tape to get the best anchor results for a sagging roof lining.
After you have purchased the double-sided tape, stick it onto the frame of the car roof and the lining material. Afterward, using your thumb, press the whole lining to ensure everything sticks firmly.
Double-sided tapes are ideal for use when there are extreme damages.
As we have seen, fixing a car roof lining without removing it isn't cumbersome as speculated. By following all the above-mentioned insights, it's quite simple and fast to repair a sagging roof lining.
Also, you can manage to fix a sagging roof lining on yourself and thus save huge costs associated with hiring an expert.
How Much Do You Need to Fix the Car Roof Lining: Costing Details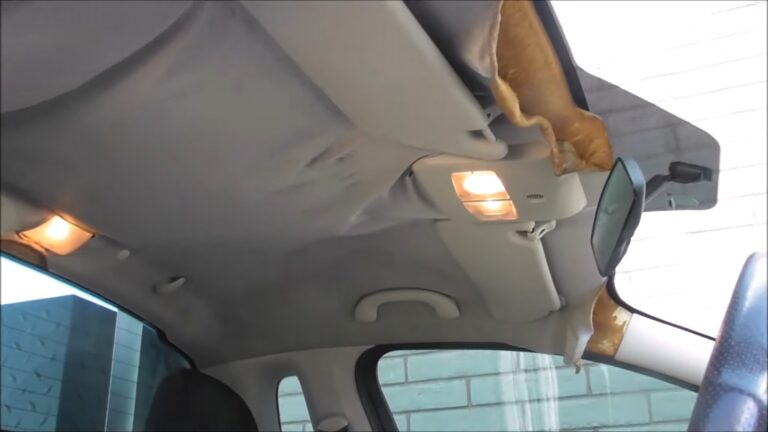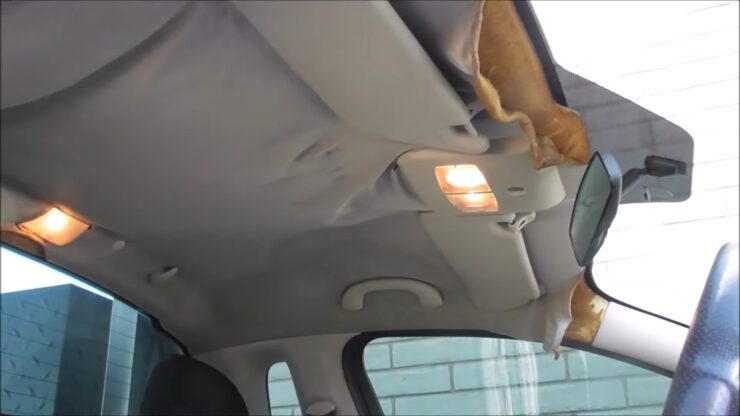 However, if your car roof lining is sagging, it's high time you consider repairing it. Repairing this indoor car accessory is super easy and a process you can conveniently handle by yourself.
If you can manage to repair it, you get to save money since you don't have to pay a fee when consulting a professional mechanic.
On the other side, if you don't know how to fix one, you will be required to pay a fee averaging $30. Also, it becomes crucial to replace it and the cost range around $200 – $500.
Cost details of fixing a roof lining are determined by the dealer you seek and the intensity of the damage.
Advantages of the Car Roof Lining
As we have seen, car roof linings are vital for the safe operation of automobiles. A great driver needs all the comfort to ensure that his or her concentration levels are high.
Roof linings come with an array of features that make them ideal for installing in cars. Let's look at some notable advantages of cars' roof lining.
Improves Cars Interior Design: Vehicles' roof linings come in different designs that utilize classy color elements.
Also, there are diverse makers of these car accessories, making it possible for car owners to access an array of products.
Ensure you research for a roof lining that complements well with the interior design of your car to get the best deal.
Maintains ideal Temperature Levels: During extreme weather conditions, the temperature can rise or fall drastically.
Roof linings help to keep the temperature levels optimal. Too much heat can pose health concerns, just like extreme low temperatures can.
As such, it is vital to install this car accessory to keep your health status safe.
Absorbs Sound: Most drivers like to listen to their favorite tunes when driving, but outside noise interferes with the quality of sound.
Installing a quality car roof lining helps to reduce the intensity of noise entering the car.
Roof liners absorb the outside noise making it possible to listen to music in your car sound system better.
Crucial FAQs for How to Fix Car Roof Lining without Removing It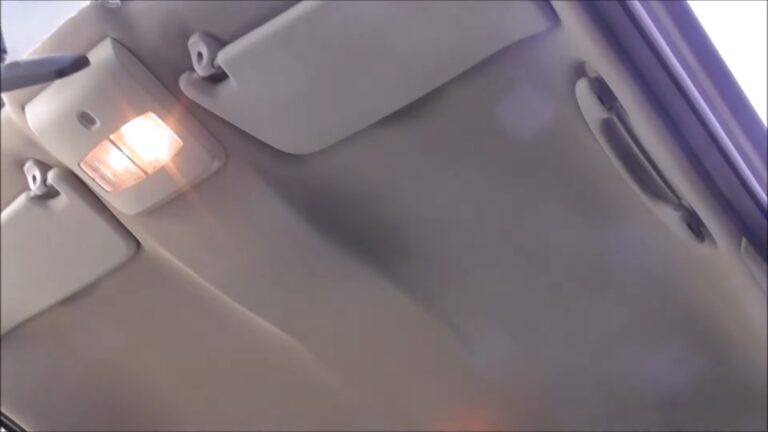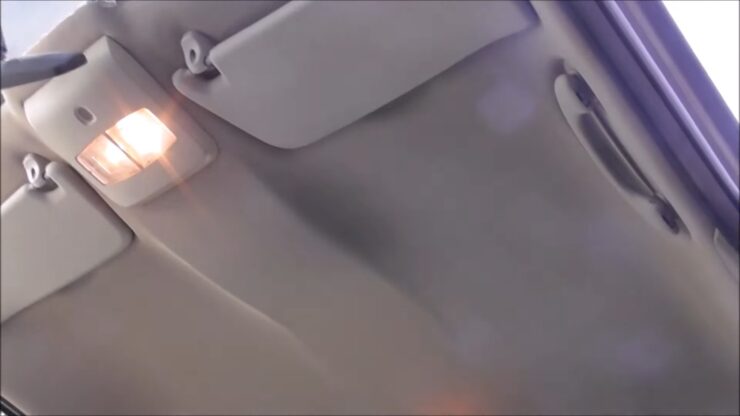 A car roof lining is susceptible to unforeseen and known forces that can lead to sagging at one point or another.
Knowing some of the notable problems and valuable insights concerning car roof lining is crucial. 
The frequently asked question section provides answers to some problems affecting this vital car roof accessory.
Q: What are some causes of a sagging roof lining?
Ans: Cars' roof linings are subjected to extreme heat and cold conditions since they are anchored directly to the exterior metal board.
Sun rays create heat around the exterior car-board and this can lead to melting of the adhesive coating.
Also, high humidity levels deteriorated the quality of floor lining glue, making them sag with time.
Q: Averagely, how long does it take to fix a car roof lining?
Ans: On average, it takes an hour to fix a car roof lining.
From cleaning both surfaces to applying the right attachment substance, it's possible to repair it in less than an hour.
In case your hire a professional mechanic, the whole process should take around 45 minutes to accomplish.
Q: What are some qualities of a great car roof lining?
Today's market has many types of car roof lining which are labeled as best.
Some are of poor quality and it is hard sometimes to detect them. Here are notable qualities of a great roof lining.
Made of a tough material resistant to scratches.
Comes at an affordable price tag.
Doesn't pollute the environment once disposed of.
It matches well with the interior design of your car.
Others
Q: How can I protect my car roof lining from sagging?
Ans: A car roof lining is fragile when exposed to extreme weather conditions.
Excess heat or cold affects the ability of roof lining to hold on the board. When parking a car, park it in a shady place to avoid board overheating.
Also, if you are in a rainy or snowy location, park it in a sheltered place to avoid exposure to extremely cold temperatures.
Q: What is the best place to get a roof lining replacement?
Ans: Sometimes it becomes cumbersome to fix the car roof lining without removing it.
Replacing becomes the only way out, but before getting a replacement, it's wise to get an original and quality one.
A good place to buy a great car roof lining is straight from the car manufacturer or the Amazon website.
Q: What are some benefits of having a car roof lining?
Ans: A car roof lining has immense benefits, which make it a vital car accessory. Some notable benefits of car roof lining include:
It helps to absorb outside noise and thus maintaining a serene internal environment.
Ensure the interior temperatures are optimal and thus safe for human life.
Improve the interior design of a car.
Conclusion
We hope you are well enlightened and know how to fix car roof lining without removing it. You don't have to incur costs by hiring a professional roof lining fixer.
By following all guidelines availed in the post, fixing one is already done. In case you doubt your expertise, it's advisable to hire an expert.
Having a good roof lining helps to protect the health of travelers since rogue temperatures are maintained at optimal range by this accessory.
In case it's extremely damaged, consider replacing the whole unit. Enjoy the best drive experience by fixing a sagging car roof lining correctly.
Never should you suffer while driving when it is possible to fix this great car roof accessory.
If you find something helpful we might have omitted when creating this post, please include it in the review section.
Read more about: How to Make Low Beams Stay on with High Beams Silverado